Hey, what's up, everybody. It's Shiv From ListOfAPK, and today I'm going to show you how to make dark mode work with all apps on Android 10. Now Android 10's dark mode is excellent, and it's caught on faster than any of us could have hoped. But there are still a handful of apps that don't support it.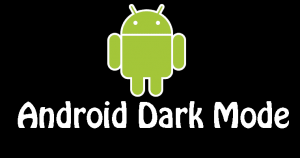 Even if you have the "Dark mode" toggle enabled in Settings under Display, you get apps like Yelp and Amazon that stay blindingly white. But Google has made an option that will force these apps to go dark.
To get dark mode in all your apps, you need to have Android 10 running on your android device. As I believe most of you have already updated your Android device. If you have not updated your android phone then, first of all, update your android smartphone into android version 10.
If you enable dark mode, then it will work only for system apps. I will show you how you can enable dark mode easily for all your third-party apps.
Also, Check Out- Picku Android APP
Just Follow These Steps To Make Dark Mode Work with All Apps on Android 10
To enable dark mode, First of all, you have to enable developer option. 
You have to enable the hidden Developer options menu to use it. So for most phones, go to Settings, then down at the bottom go to About Phone. Then scroll down to the very bottom and find Build Number.
After That click on build number, 7-8 times then on some of Android device will ask for PIN of your android phone.
Now you have successfully enabled Developers option.
Once you have done this now back to main settings and find out developer option in the setting  list.
Once you're in the Developer Options menu, scroll down quite a bit until you find the "Hardware Accelerated Rendering" section.
Here, you have to turn on the "Override force-dark" switch. That's the one that turns most every app dark.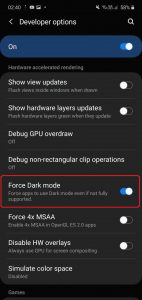 Now, your best option is to reboot your phone. Some apps may be stored in memory with their white UI elements, so instead of clearing all the apps away from the multitasking view. Just do a quick restart. When you get back up, apps that used to be white will now be dark. The setting does a pretty good job of only darkening things that should be darkened.
For example, it's not going to invert the colours on any images in the app. It's just going to invert the text colour and background colour. That can lead to the rare visual glitch here and there, but it's seriously uncommon in my experience. It's not completely perfect overall. When an app uses a custom background instead of just loading the system assets, it can't do anything about that.
A perfect example of that is how Google Maps doesn't change because the background's not a solid colour — it's a map. But Amazon, Google Play Music, SmartThings Classic, Walmart Grocery, Yelp, and every other app. I use work with it.
So it is a true system-wide dark mode. But for more tips and tricks like this, be sure to check out our website at listofapk. Don't forget to share this article with your friends. So we'll see you again next time folks.